The job of a journalist has changed. It's no longer solely about reporting and writing or
doing a video stand-up. The entrepreneurial journalist seeks out an audience, then
understands it and engages with it.
The Forbes Model for Journalism
---
---
Are young journo's paper dreams gone?
Speaking to on of our young journalists last night, she noted that the recent Fairfax changes meant she "would probably never work at a newspaper" even though that is what she "assumed she would always eventually do"
As someone who has religiously followed the ebbs and flows of Australian media, it surprises me to hear this from a recently graduated journo.
So when I came in to see the story below, republished from The Conversation, it hit home that none of these kids will ever work AT a newspaper again.
They may get published IN a newspaper, but working to that daily deadline is all but gone, and its not coming back.
Print, digital divide finally dead, says Fairfax
By Justin Norrie, The Conversation
Fairfax reporters will be expected to file stories throughout the day into an internal "wire" that will hold copy for use on any platform – print, online, tablet, social media and mobile, under a blueprint unveiled this morning.
And for the first time, editors-in-chief at The Age, The Sydney Morning Herald and The Canberra Times will be responsible for content across all platforms, not just print. "The old divide between print and digital has been dismantled," Garry Linnell, Editorial Director of Fairfax Metro Media, said in a note to staff. "No more silos. One leadership for one integrated newsroom."
Although editors will be appointed to each of the five platforms to focus exclusively on those areas, reporters will no longer report directly to them. Instead they will work with "Topic Editors", who have no loyalty to any one platform.
Topic-based reporting teams will be arranged around national subjects, such as federal politics, business, environment and technology, and a smaller selection of local subjects, such as state politics, transport and sport.
Mr Linnell said Fairfax "will build more national teams around topics. This allows us to better avoid duplication, to share more of our stories across the country that interest a national audience.
"Topic-based reporters will be expected to file through the day to meet audience needs. Their copy will flow through a Fairfax 'wire' – visible and accessible to all Metro newsrooms. Copy will be edited, checked, headed and made ready. It can be used on any platform … This reverses the 'print-first' approach that has dictated production processes for generations. Instead of copy being handled multiple times, it will be produced once."
Almost 100 editorial staff across Fairfax contributed to the blueprint.
Catharine Lumby, Professor of Journalism and Centre Director of the Journalism and Media Research Centre at the University of New South Wales, said the restructure was "the right move, but it should have happened a decade ago. The internet is not new. That train has been coming down the track forever.
"The people who should have been dealing with it – their incentive was the share price. Follow the money. The people at Fairfax who really care about journalism – and there are so many – have not been involved in the money-making side."
The Australian mainstream media had been asset-stripped by senior executives whose pay packets were tied to share prices and refused to confront the big issues, she said.
Professor Lumby said she rated Mr Linnell very highly. "He's a journalist and he gets it, and he's an excellent person to be in charge of this process. Under someone like him, they can turn things around to an extent. But my fear is that we'll get people like him replaced by people digging iron ore out of the ground," she said, in a reference to the push by billionaire and major Fairfax shareholder, Gina Rinehart, for seats on the board.
"If you look around internationally, Australian media is so, so far behind on this," Professor Lumby added. "They have been asleep for a decade, and because they thought they had the market cornered. They haven't just let down their business model, they've let down Australia when it comes to good information that Australians can access."
Fairfax last week announced it would shed 1,900 staff over the next three years as part of the restructure. About 20% will be journalists and another 20% staff at the two printing plants, at Chullora in Sydney and Tullamarine in Melbourne, that it will close. The company will introduce a metered paywall system for its digital content next year.
News Ltd also announced major cuts as part of a large restructure, but declined to specify how many jobs would go. Speculation is that as many as 1,500 positions will disappear in the next two years. The company has already reportedly made 100 staff redundant – 70 across its digital platforms and the rest from regional Queensland mastheads.

This article was originally published at The Conversation. Read the original article.
---
---
Yep, AAP loses editorial staff as the decentralisation of news continues. No more big print titles slushed with funds to pay whatever for newswires, and those fairfax jobs are going to NZ. 
---
---
---
---
Fairfax journo's strike… or "how to prove nobody cares"
As a former journo (albiet briefly), someone who works closely with journalists all day long and keen watcher of all things media, the Fairfax journo's strike mostly portrays a group of people with an over inflated sense of their own worth and position in society.
If the declining circulation and plummeting share price weren't enough to get their inquiring, journalistic minds running as to the future of the organisation, the constant stripping down of the workforce surely should. 
The big question is, what do they possibly hope to achieve by the strike?
Firstly, the journo I sit next to, who has been reading the SMH for decades longer than I have been alive didn't notice that was anything different. In fact, we have been debating whether we will actually notice something in tomorrows paper instead.
Nothing says your strike sucks more than nobody really noticing. So you got a days wage docked, the jobs will still go to New Zealand, and the company stays afloat for a few more years as opposed to holding up its "journalistic standards" that are as archaic as can be.
To me it's like the ice harvesters going on strike to protest against the advent or refrigerators… the world has changed forever buddy.
---
---
"Could you mention our sponsors in your story?"

"NO."
---
---
TR spent $124,000 on developing tablet editions and sold 353 iPad subscriptions.
Why Tech Review is ditching it's iPad edition.
(Source: Boing Boing)
---
---
Is this the Data Visualisation holy grail I have been looking for?
Visual.ly had promise, but they seem to have stagnated and stagnated to the point I have given up (sorry guys) 
We know that data journalism is going to be increasingly important as the reverse pyramid model slowly dwindles into irrelevance as new platforms skew what providing "news and information" really is on a day to day basis.
But one of the biggest problems is how do you start with only a few resources?
These guys can help. I reckon you should check it out.
---
---
I feel that this meme is going to get a workout from me.
---
---
Whilst it's clearly only the tip of the iceberg. It looks as if the phone hacking scandal has cost the Murdoch empire a bit more than chump change. 
$167 million so far in fact according to PaidContent.
My friends (and perhaps my enemies) know that I have never had any love for News Ltd, in fact I often vowed never to work for the "evil empire".
The post budget front page of the Australian this week only went to prove that in News Ltd, this shit runs deep, into almost every facet of the business. 
I'm not saying they aren't good people who work there, I am saying the corporation is severely corrupted.. well ethically at least. I'm sure the storm troopers in Star Wars were nice on their day off.
So its good to see that after my ENTIRE FUCKING LIFE having to look at the seemingly impenetrable march of the evil empire, that its now losing money and influence hand over fist because of unconscionable indiscretions.
Karma's a bitch, but it seems to work, eventually.
---
---
Great story on the Vine analysing why Newsltd papers take the cake when it comes to uhhh.."objective" reporting.
---
---
Handy data journalism handbook. (Free E-book)
Whilst I was reading GigaOm, which is fast becoming my favourite online publication, I noticed this great post on a new Data Journalism handbook. Available for free here.
It's a great why-to and how-to guide on data journalism. Including monetisation.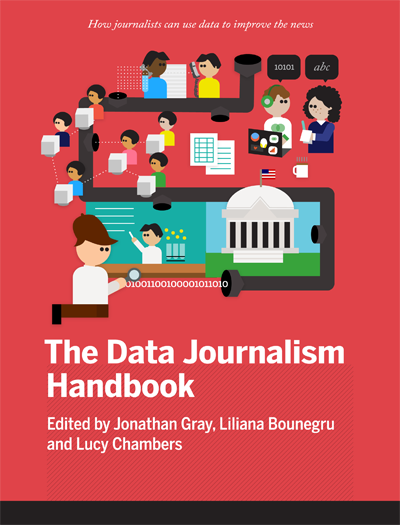 We always hear about how big data is going to be the next big thing. And journalism is no different. The idea is that a journalism is no longer confined to mere text, image and video. 
In fact journalism should in many ways be divorced from those mediums and sometimes an interactive application is THE best way to tell a story.
The only problem? Resources and monetisation.
Resources, well thats the hacker, coder or developer who can work on your data visualisations. Traditional journalists usually dont have the skills, and to say your coder probably doesn't have a nose for relevance is usually an understatement. But like anything, two different minds working together can create amazing results. 
The book also has case studies and monetisation opportunities beyond advertising. (and way past display). GigaOm itself is a great example of this, with the more detailed, GigaOm Pro providing market intelligence reports that can be invaluable to business.
Perhaps provide selected static snippets of that data for free as "news" but give subscribers access to the entire toolset to massage that data for their own purposes. 
Now MY real problem, convincing my bosses to hire a coder just for visualisation, oh and finding the data repositories in the first place.
Hmmmmmmmmm……
EDIT: Oh I did find this after a very cursory look -  http://data.gov.au/.
Lots of great stuff in there. Almost the perfect starting point.
---
---
Inside data from Facebook on which "news" posts are the most effective
---
---
The days of bloated media are over: NPR version
Media has ALWAYS been a technology business. Old hacks might disagree with you, but thats just because they went through one of those slow moving technological times.
And it's good to see that NPR is taking a leaf from software development when creating new shows. That is products should be released early, and iterated often. It't a great read, and I highly reccomend it.
The point is, this is made ever more possible by the rise of social media.
Basically, screw the publisher model as we knew it. Enough with the perfection. Try it out, make it better, keep track.
Although admittedly its much harder than it seems.  If only all writers were tech nerds.. life would be sweet
---
---
No really. Can we stop it? A story is a story isn't it. Why do we have some vain belief that our reader care about anything other than engaging, trustworthy content?
---
---